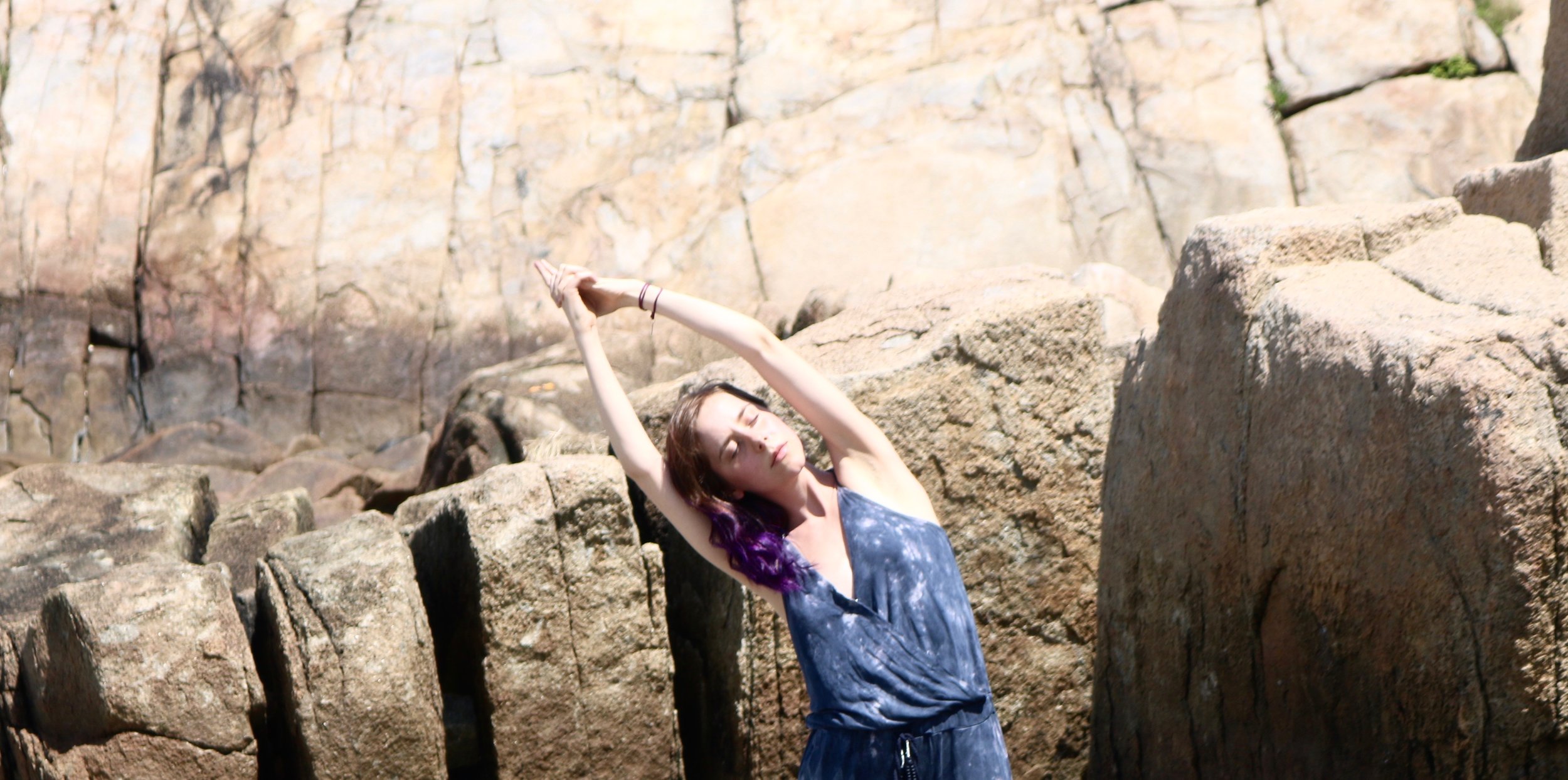 As a yoga teacher I offer you a space where you can shift from:
doing to b e i n g
judging to non-judgmentally o b s e r v i ng
resisting to a c c e p t i n g
gripping to l e t t i n g g o
avoiding to a l l o w i n g
experiencing anxiety to experiencing e q u a n i m i t y
experiencing estrangement to experiencing i n t i m a c y
experiencing indifference to experiencing c u r i o s i t y
Through yoga and meditation you have the opportunity to develop a deep intimate experience of the workings of your mind and body which will ultimately give you the ability to shift from automatically reacting to the world around you to mindfully choosing how to respond. This can lead to a greater sense of internal freedom, a deeper connection to personal truth, and a sense of ease that is more easily accessible even in challenging times.
When I guide you through a yoga sequence or a meditation I give you the opportunity to get curious and become intimate with the inner workings of your mind, body, and heart. Yoga and meditation offer you the gift of complete presence with yourself which in turn will become a gift to all those you come into contact with.
Lokah Samastah Sukhino Bhavantu "May all beings everywhere be happy and free, and may the thoughts, words, and actions of my own life contribute in some way to that happiness and to that freedom for all."
Certifications: 200 hour Kripalu Yoga Teacher, Yin Yoga Teacher, Divine Sleep Yoga Nidra guide, Guiding Meditation for Transformational Yoga Teaching.
Kripalu School of Yoga intern 2016-2017
Teaching experience: Kripalu Center for Yoga and Health, various yoga studios in NYC and NH, Konversai.com, NYU Silver Mindfulness Collective, International High School-Union Square, Breathe for Change
YOGA WITH ME
AllYogaNYC Morning Flow Saturdays at 8:30 AM and Yin Yoga Mondays at 7 PM
online at https://www.konversai.com/ username: evemarie
Testimonials
"Eve's authenticity shines through and fosters a sense of connection....Her teaching naturally ignites inspiration within me to live life vividly, authentically, and from the heart. -Cassie
"Eve is an excellent teacher! I feel safe and welcomed in her yoga classes. I find her so supportive and inspiring !" —Tricia
"I had the honor to experience two 2-hour Yoga Classes led by Eve during my Yoga Teacher Training at Kripalu and I can wholeheartedly say that I absolutely loved every minute of them! Not only does she have an unbelievably beautiful, gentle voice that touched my heart, but she is also an amazing ray of light and has a wealth of knowledge and experience about teaching Yoga to people from every path of life. Her classes made me feel grounded, strong, and deeply in peace and connected to my body, mind and spirit while feeling inspired to explore and have fun throughout the class. I highly recommend Eve's classes to everybody with an interest in Yoga!" —-Nadine
"Eve is an adept with language, offering fluid, calming and precisely led yoga classes, all the while with a gentle & approachable demeanor. She is a very pleasant & impressive yoga teacher- poised, quietly confident & dedicated... She's a gem!" - Dara
"I have polycystic Ovarian Syndrome and often am resistant to practice yoga during my time of the month. Recently I took a class with Eve that created a new experience for me! I noticed right away she set the tone of a safe and nurturing environment. Eve gave a lot of space for us to pay attention to our bodies and care for ourselves as needed. I didn't feel self conscious for modifying and even sitting a pose or two out. Her class reminded me yoga can be experienced any time for my body and I can respond according to my needs." - Amanda
"Learning from Eve is like being held by a dear friend. Her attention to safety and attunement to alignment creates an environment of peace and security. With Eve as my teacher, I felt a sense of confidence in my ability to move and in her ability to catch my fall. I only wish there was more of Eve to go around, so I could grow with her every day!"- Julia